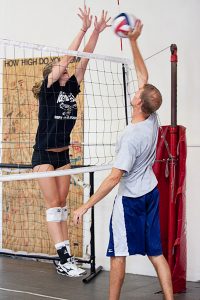 PRIME ATHLETES is the  leading volleyball skill and sports performance training center in the South Bay. We specialize in training youth athletes  to help accelerate their athletic development.  We offer our athletes the opportunity to train in a environment focused soley on their individual needs with the most accomplished athletes and coaches in their sport.
OUR SERVICES:
OUR ELITE TEAM OF VOLLEYBALL TRAINERS INCLUDES:

Former Olympians
Former NCAA All Americans
NCAA National Champions and Captains
The Top Players in the Nation

Professional Athletes both indoor and beach
Certified Personal Trainers
Club and High School Coaches
OUR ELITE TEAM OF CERTIFIED PERSONAL TRAINERS INCLUDES:
National Acadamy of Sports Medicine Certified Personal Trainers
National Strength and Conditioning Association, Certified Strength and Conditioning Specialists
Corrective Exericse Specialists
Professional Athletes
OUR FACILITY INCLUDES:
A Private Indoor Volleyball Court open 7 days week in the heart of the South Bay for your convenience to schedule regulary and consistently.
A Personal Training Gym with the most current training equipment to train like the Pros including the Vertimax, TRX, Weight Vests, Battling Ropes,  Kettlebells and many more!
A Team of Training Resources to offer depth of support for your athlete's specialized skills, performance and mentoring needs.
Vertimax Jump and Speed Training Platform.
Video Tape Analysis and Observation
Journaling for goal setting, video camera results, cues learned,  session homework and tracking your jump measurement improvements
A Staff with a reputation for getting results
As coaches, professionals and role models, we offer the unique combination of youth and experience in our staff to which aspiring athletes can relate.  Whether you are a beginner, intermediate or advanced athlete, we can help develop your skills and love for your sport.